Shymalamma Gogu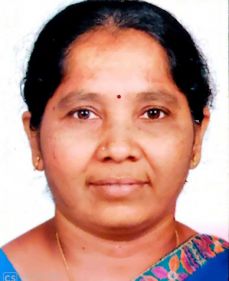 lien internet
projet de recherche
An Alternative History of the Social Classes Based on a Storytelling Art and Performative Form of the Dakkalis Telangana State (Southern India)
Jambava Puranam has powerful and inclusive mythological stories, which are preserved in palm leaf manuscripts and scroll paintings. It is recited in performance of oral storytelling by the Dakkali community, a kin community of another marginalized aboriginal Dalit and artisan communities which has occupation of Leather, Animal husbandry, agriculture and Shoe making and making music instruments with leather and strings in Telangana state in southern India.
The Jambava Puranam contains an interesting alternative history from below origins of social classes to mainstream texts of puranas. The larger aim of this project is to undertake a deeper study of this ancient Puraanam looking for about women like Yellamma and Arundhathi …etc, would focus on gender issues and modern women from Dalit woman perception and standpoint. This has so far not elicited much interest from either the academic or activist circles, even from within the circle of Dalit scholars.
In Puranam, articulate their relation and bandage with human society. The Dalits in a way dreams and desire are carrying out the spiritual messages. While looking at the genesis of the world, the Puranam reflects an entirely different worldview of matriarchal. While the sense of enthusiasm about committing oneself to documenting this rare art form and story is a larger project, there is a need to fine tune oneself with the theoretical questions for this tradition.
biographie
Dr. Gogu Shyamalamma is one of the foremost contemporary Dalit writers in India, an inventive author and poet in Telugu. Her English collection of short stories are landmark books in Indian literature, it has also been translated into German and one story into French. Her other writings have been translated into vernacular native languages like Tamil, Malayalam, Hindi, and Urdu. She produced a biography of the first Dalit woman legislator in the state of Andhra Pradesh. Her earlier volume Nallapoddu (Black Dawn) is a collection of Dalit women writings from across the state. This anthology has been critically acclaimed in Telugu literary world. She participated in several national literary events, and in a couple of World Conferences, literary fests and workshops. She has worked on issues of domestic violence and Dalit women. She was also the co-editor of Oxford published Anthology of Telugu Dalit Writing in English. She has received several awards. Some of her writings are part of the higher education syllabus for Telangana Government and University of San Francisco, USA. Her PhD thesis titled 'Reading Caste Histories through Biographies: A Case Study of the Dalit Women of Telangana' was undertaken at the Department of Social Exclusion Studies School of Interdisciplinary Studies at the English and Foreign Languages University, Hyderabad in 2019.