Najat Rahman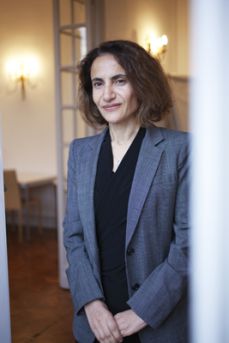 projet de recherche
In the Wake of the Poetic: Palestinian Diasporic Artists After Darwish
How may the diasporic "inform/disrupt" ideas of the national? (Butler 2010) What does it mean to articulate a belonging in diasporic forms and settings? To trace the influence of the poetry of Mahmoud Darwish, long deemed a "national poet" and one who so poignantly expresses a loss of home, to diasporic artworks that often evoke this poetry directly and yet which are "at home and in the world" demand a thinking of "belonging without the conditions of belonging," as Agamben has argued. (1993) Could "dislocations felt by displaced subjects towards disrupted histories and to shifting and transient national identities" constitute this belonging? (Rogoff 2000)
My proposed research aims to produce an interdisciplinary analysis of the theory, aesthetics, and politics of Palestinian diasporic cultural production in the last two decades in light of its significant presence on the international scene, and following on the heels of the immense influence of Mahmoud Darwish's poetry that had dominated Palestinian culture for decades. The 1990's have heralded a new period of creativity in the wake of the Oslo Accords, and "as a result of the decentralization of the Palestinian political scene." (Pappé 2005) It traces the influence of Darwish's poetry in language, lyric, performative and visual art forms.
The approach is unique in its privileging of the medium, how different art media are combined to create innovative forms and new assemblages. Given the hybrid nature of the works I will be examining, as well as the advantages of an interdisciplinary approach, I build on my expertise in literary studies to explore the fluid boundaries between literary production and other modes of artistic creativity (particularly poetry's relation to film, video, and performance art). The visible influence of Darwish's poetry on artists from spoken word poets such as Hammad to visual artists such as Haram, has necessitated an approach that addresses poetry's relation to other arts, and the transformation not only of what is 'national' through this diasporic art but the distinct boundaries of those forms, where the poetry of Suhair Hammad beckons that of Darwish in a language composed of Arabic and English, in written poems also performed as slam poetry. The artworks call for an approach that is multilingual and intermedial, a new comparative literature as Emily Apter has proposed. (2006) The multi-media demands of the project are both innovative and challenging not only because one is working across different media but rather because each work already seems to be multi- medial and therefore demands a new approach.
I propose an overview of Palestinian art post-Oslo; an interdisciplinary and theoretical examination of Palestinian film, visual art, and lyrical expression; a close critical examination of the works of several artists who played a central role in this new wave, such as Suhair Hammad, Elia Suleiman, Hany Abu Assad, Emily Jacir, Sharif Waked. These will provide the basis for a book and a workshop accompanied by film screenings.
This project represents a significant and innovative contribution since this will be the first substantial study to account for this wave of experimentation that has emerged post- Oslo in the Palestinian context and to trace the impact of modern Arabic poetry (specifically that of Darwish) on proliferating art forms. The argument and approach are also innovative (the conceptualization of the national through the diasporic; theorizing the multilingual in relation to the intermedial that the diasporic also has spawned); examining the relationship of aesthetics and politics in light of the theoretical contribution of Jacques Rancière (2010).
Résidence EURIAS
biographie
J'ai obtenu mon doctorat en littérature comparée de l'Université de Wisconsin-Madison. Avant de joindre le Département de littérature comparée de l'Université de Montréal, j'ai été Fulbright Scholar au Liban et j'ai enseigné à James Madison University. Mes travaux de recherche portent sur la 'littérature sans patrie', littérature préoccupée par des articulations/désarticulations de 'chez soi,' littérature difficile à situer dans un lieu particulier. Cette littérature implique une réflexion sur le plurilinguisme, l'exil, l'héritage culturel, la forme littéraire, la condition littéraire, la politique de l'appartenance, l'appartenance dans un contexte de diaspora et de déplacement perpétuel. Récemment, je me suis concentrée sur le processus affectif de deuil et les formes de l'humour face à des expériences collectives de perte et de violence.