Ashok Vajpeyi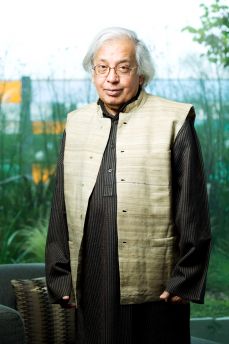 lien internet
projet de recherche
Each his own fire
Kabir (16th century) and Ghalib (19th century) are two major poets in the Indian tradition. Kabir wrote in an earlier form of Hindi and, while living in the holy city of Banaras, through his poetry critiqued the prevalent ritualism of both Hinduism and Islam. His deep mysticism envisaged a God without features, without human attributes as "Nirguna'. However, the Nirguna could only be apprehended through poetry, through words which are inevitably 'Saguna'. Ghalib, a great poet who wrote in Urdu and Persian, looked askance at being, had an interrogative spirit much like Kabir but a deeply romantic belief in poetry. Both Kabir and Ghalib seek for home beyond all homes: they finally reside in the indestructible home of their poetry.
I have been studying them together with a view to understand and analyse the two masters as to why are they two of many ancients, who still speak to us and what is that they are able to say today. They are connected by an imagination which is, while retaining certain aspects of a celebrative poetics, self-interrogative leading them to address the eternal themes of human condition, human predicament and human destiny in fresh and surprising ways.
My study, which really would be a book by a poet about two non-modern ancestral poets, would aim to look, treat the two as contemporaries of mine, speaking to me today beyond time and history. Several common metaphors or motifs like fire, home, angst of being, death etc. would be examined.
Already, a series of oral lectures on them have been delivered by me at the Universities of Hyderabad, Aligarh Muslim University and Jamia Millia Islamia. I would now like to sit down in a quiet ambiance and write a book. It should take me about a month and a half.

Cette résidence a bénéficié d'une aide de l'État gérée par l'Agence nationale de la recherche dans le cadre des programmes d'Investissements d'avenir au titre du Laboratoire d'excellence RFIEA+.
biographie
Ashok Vajpeyi has written thirteen books of poetry and eight of criticism three of which are in English on visual arts. He won the Sahitya Akademi Award, Kabir Samman, Dayavati Modi Kavi Shekhar Samman and has been decorated by Govts of France and Poland for his cultural contributions.
Ashok Vajpeyi has done book-length translations in English, French, Polish, Bengali, and Marathi & Urdu. He is currently Chairman of The Lalit Kala Akademi (National Academy of Art).