Liu Cheng-hsiang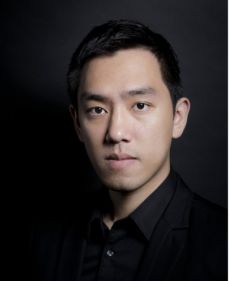 lien internet
projet de recherche
Fractal symbiosis|Cosmos of thoughts
I believe that artists must begin contemplating and establishing a creative symbiosis between culture and technology, since our way of life is being continuously transformed by technical advances. For example, the creative philosophies of France seek innovative possibilities by continually constructing dialogues between emotion and rationality, making it possible for France to maintain a pursuit of elegance that keeps pace with the advancements of technology. Thus, I am motivated to explore how France has maintained a spiritual abundance along with technological innovation. I am certain this is a challenge and topic that Taiwan, also renowned for its development in science and technology, will face in the near future.
Starting from this inquiry, I attempt to respond with my core work - the Cosmos of thoughts series. Generated using computer programs and algorithms, I learned about the logic behind the generation of new species in nature to depict works of image and space with extremely vast scales and fine details, and challenge the top-down tradition behind artistic creation as well as the model of "artists & artworks = creator & creation". In this manner, to become the creative conveyor, the perspectives and environments of the artist's mind and body may alter, becoming new creative genes that evolve into new possibilities, just as species in nature evolve and adapt to different environments.
Historically speaking, art has come from a past in which it primarily served religions and monarchies to the current era of the Internet in which global hierarchies are becoming flattened. Now, we find ourselves at a cross-generational turning point. As the world stands on the verge of falling apart due to the new pandemic, artistic creation should have a new mission – to reconnect human relationships before the world reaches a breaking point. This task requires a dialogue beyond words, a sensation that touches human hearts. By integrating my experiences in France, I look forward to unleashing the possibility of such a sensibility through my specialty in rational contemplation.
biographie
Liu Cheng-Hsiang was born in Taichung, Taiwan in 1986. He graduated from the Bartlett School of Architecture UCL in London. His works continuously reflect and dialect the essence of life and the relationship between artificial being and nature over the past ten years. His photography work "Build / a world in the eye" has won awards and been published in many countries around the world. The generative artwork "Cosmos of thoughts" echoes the characteristics of Taiwan's science and technology, and has been selected for the Kaohsiung Award, the Tainan New Art Award, and the MIT New Artist Recommendation of the Ministry of Culture. In 2021, he was recommended as the representative visiting artist to France from Taiwan by Taipei International Art Village.
Liu is the founder of Shawn Liu Studio and has been its director since 2016. The studio is a visual consulting firm, which is deeply involved in the field of visual creation and exhibition design. The studio is mainly responsible for the creation of large-scale public constructions and cultural-related images in Taiwan, including museums, transportation, industry, campus and art, as well as their related short film production and exhibition. Liu also served as a visual art and design lecturer at national and private universities in such as National Cheng Kung University ,National Yangming Jiaotong University in Taiwan and oversea The Hong Kong University of Science and Technology.
Liu Cheng-Hsiang's digital art has been exhibited extensively with acclaimed Taiwan art institutions and organizations including National Taiwan Museum of Fine Art and Kaohsiung Fine Art Museum. Cosmos of Thoughts was the winner of Tainan New Arts Award (2019) and the National Ministry of Culture MIT New Art Recommendation (2019). He currently lives and works in Kaohsiung, Taiwan. In September 2021, Liu has been selected as the resident artist of Young-Artist-in-Residence@V54 scheme organized by Po Leung Kuk, which not only houses his first Hong Kong art presentation, but also offers the artist a rare opportunity of local community exchange. Cosmos of Thoughts and the program centered around the art series are part of the "Y-Lot SciTech series", designed by the charitable organization to increase accessibility to Science and Technology initiatives. In 2022, Liu participated the International Artist Exchange Programs of le lieu unique in Nantes, France.