Rachel Mayeri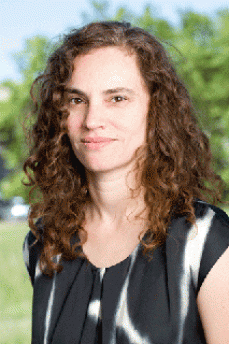 Fonction d'origine
Artiste et Professeure associée
Institution d'origine
Media Studies, Harvey Mudd College, Claremont (États-Unis)
projet de recherche
Primate cognition in crisis: looking at the relationship between decision-making and emotions
Given the state of permanent crisis in regards to species extinction and the complex relationship between human and non-human primates, especially within the realm of scientific inquiry on primate cognition, I propose to work in an open-ended dialogue with researchers in the field of cognitive neuroscience on four related topics:
(1) the creation of videos for the enrichment of lab animals,
(2) cross-species neurocinematics : investigating how human and non-human minds read signs,
(3) the formation of identity and affiliation between species, especially among scientists who work with animals,
(4) primate cognition in crisis: looking at the relationship between decision-making and emotions.
Depending on researchers' desire to collaborate, I will either produce art project(s) described in further detail in my proposal, and/or a documentary about the dialogue itself.
Additionally, I plan to develop three projects while in residence. One is to continue work on an art installation/video game inviting participants to learn how to act like a chimpanzee through physical embodiment. A second project is to continue research on the enrichment of captive primates, and observe scientists' interactions with monkeys in the region. The third project is to begin an animated video on the interaction of emotion and rationality in decision making processes.
biographie
Rachel Mayeri is a Los Angeles-based artist working at the intersection of science and art. Her videos, installations, and writing projects explore topics ranging from the history of special effects to the human animal. For the past several years, she has been working on a series of experimental videos exploring the primate continuum entitled Primate Cinema. Other two main videos are: "Primate Cinema: Baboons as Friends" that is a reenactment of a baboon social drama with human actors, produced in collaboration with primatologist Deborah Forster. Primate Cinema received a Semifinalist honor for the International Science and Engineering Visualization Challenge (sponsored by NSF and The Journal Science) and showed at the Museum of Contemporary Art in Denmark. "Stories from the Genome: An Animated History of Reproduction" was supported by Creative Capital Foundation and won an "International Media Art Prize," sponsored by ZKM. She is Associate Professor of Media Studies at Harvey Mudd College.